Top 7 Las Vegas Rooftop Bars Worth a Visit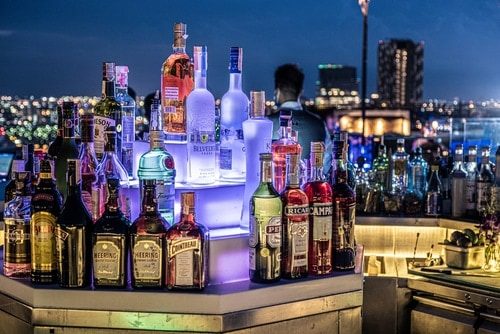 Las Vegas abounds with exclusive cocktail lounges, although some of the most sought-after watering holes in the city are its picture-perfect rooftop bars.
Enjoying an occasional tipple is an integral part of any Las Vegas vacation. While there are ample places to stop for a drink both on The Strip and downtown, the best saloons are the beautiful Las Vegas rooftop bars that offer amazing views and an opportunity to wind down after a long day at a casino. Whether you enjoy a champagne breakfast or a sundowner, there's plenty of glamour, glitz, and neon at Las Vegas rooftop bars.
Here are some of the top rooftop bars in Sin City to choose from to celebrate your wins or drown your sorrows:
1. Oak and Ivy, Downtown
If you're in Container Park and wish to grab a drink in style, Oak & Ivy is the spot. This extraordinary bar is located in a shipping container and specialises in delicious cocktails while boasting a comprehensive selection of whiskeys. But climb a few steps to the top and discover a rooftop seating area with a difference.
2. TopGolf Las Vegas, Off the Strip
Combine golf with drinks at this driving range off The Strip. There are numerous bars where you can drink your fill, with every seat boasting a gorgeous view of The Strip. This is a perfect place to sit back and relax with a cold beer even when you don't play golf or dip in the pool with its swim-up bar!
3. VooDoo, The Rio
The VooDoo Steakhouse enjoys a prime location west of the Strip, and at 51 floors high, you are guaranteed a panoramic view. You can enjoy some delicious food here or head next door to the VooDoo Nightclub and Lounge, which has a spectacular rooftop deck that transforms into a groovy dance floor each weekend. Dance the night away with top DJs and try a Witch Doctor fishbowl, which blends Caribbean rum with dry ice for an eerily spooky effect.
4. Commonwealth, Downtown
While Commonwealth is off the Strip, it's worth the trip downtown to experience a memorable rooftop experience. With its quaint bistro lighting, park benches, and comfy couches, this bar even has a dancefloor.
And, if you feel like migrating indoors, the area downstairs resembles a traditional speakeasy, with long tables and elegant chandeliers creating a unique atmosphere. For those in the know, there is The Laundry Room, a secret club where the use of cell phones is strictly prohibited, and visitors are required to know the password to enter!
5. Marquee, The Cosmopolitan
While Marquee is essentially a day club, it doubles up as a stylish rooftop bar. If you appreciate nothing more than jiving by the pool in your swimwear while sipping cocktails in a picturesque rooftop setting, this is the place for you. Basking in the sunshine during the hot summer days and enclosed in a dome during the winter, you'll enjoy great views all year round.
6. Citrus, Downtown Grand
You can find Citrus atop the Downtown Grand roof, with plenty to enjoy there. Besides the breathtaking view, you can play a round of cornhole, relax by the gazebo fire pit if it gets chilly, snuggle inside a luxurious cabana, or dip into the infinity pool.
There is even an organic herb garden here. Its produce is often used to garnish the bar's legendary cocktails, such as the Green Iguana – a blend of Midori Melon, honeydew juice, and mezcal. Be entertained by DJs and live concerts from Thursday through Sunday and take advantage of the free entry for everyone, regardless of whether they are staying at the hotel.
7. Chateau, Paris Las Vegas
If you're visiting Paris Las Vegas but don't enjoy the informal atmosphere of the Beer Park, head on over to Chateau instead. With its notably different atmosphere, this lounge and nightclub is a popular spot for bachelorette crowds, enjoying a spectacular location underneath the Eiffel Tower replica. It also offers excellent views of the famous Bellagio fountains just across the road.