5 Best Cocktails to Order while Gambling at a Casino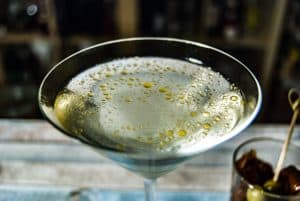 While casinos are best known for slot machines and gambling tables, they are also great places to come and enjoy premium quality cocktails.
Contemporary casinos are far more than just venues where a person comes to try out their luck. Modern casino resorts boast state of the art entertainment venues, gourmet restaurants and some of the top bars in the world. Spurred on by high-end client base that has no issue with spending top dollar, many new-age casinos have included top-quality cocktails into their offerings.
Here is our list of the most fitting cocktails to accompany your next visit to a casino:
1. Dry Martini
Dry Martini is the embodiment of the plush casino lifestyle. Made famous by James Bond and his legendary "shaken, not stirred" line, this drink is a perfect opener to an evening of fun around the gambling table. It is the first go-to cocktail one should order before proceeding to anything else.
A Dry Martini is, for all accounts, a straightforward boozy amalgamation of gin and vermouth. To spice it up, you can garnish a martini with an olive or a twist of lemon, before you knock one down.
2. Gin and Tonic
Staying with gins, a G&T is yet another casino favourite that is both simple to make and delicious to savour. A Gin and Tonic combo is an acquired taste and, although previously labelled as a drink of the elderly, has evolved and has had a popularity surge amongst the young and trendy.
To appreciate the drink fully, you need to allow the taste to develop in your mouth and all the flavours to express themselves. To make things a bit more complicated, there are so many different gin options today, from the traditional white spirit to herb-infused pink, blue and black gins.
Add the various flavours of tonic water to the mix, and you get a highly sophisticated and flavoursome cocktail. However, for the puritans, the safest option remains a good old London dry gin with a hefty dash of Indian tonic.
3. Bloody Mary
Bloody Mary is an ideal cocktail for those seeking something less sweet and more savoury. It is regarded as the cocktail of choice of those who prefer to gamble from home at one of the various Canadian online casinos.
The cocktail is made by combining vodka with tomato cocktail, with typical garnish being a celery stick, freshly ground black pepper and a dash or two of either tabasco or Worcestershire sauces. There are rumours that Bloody Mary is the best cure for a hangover, the morning after a heavy night of drinking.
4. Piña Colada
If the casino where you are gambling is located somewhere in the tropics, like one of the Caribbean islands, then a fitting drink to accompany your evening on the gambling floor would be a Piña Colada. This exotic concoction is made up of premium Caribbean rum, coconut milk and freshly squeezed pineapple juice, all blended or shaken together into a mouth-watering drink.
The great thing about Piña Colada is that it easily doubles up as a refreshing non-alcoholic beverage by simply leaving out the rum, which can then be enjoyed by adults and kids alike. And, if you've ever visited any of the exclusive casinos that offer player tables inside swimming pools, then you'll know that Piña Coladas are the order of the day there.
5. Whiskey on the Rocks
Although not a cocktail per se, whiskey on the rocks is synonymous with more sophisticated male gamblers who enjoy table games such as roulette, blackjack and poker. Naturally, a well-aged, single malt scotch is the preferred choice here, but an excellent Irish blend or a more domesticated bourbon are a few other favourites of professional gamblers.
The list of cocktails is endless, and alongside the all-time favourites, there is an infinite selection of new mixological masterpieces. So, next time you visit your favourite casino, give one of our suggestions a shot or be adventurous and try something different. Either way, you are guaranteed to have loads of fun.