A Basic Guide to Online Slots and their Themes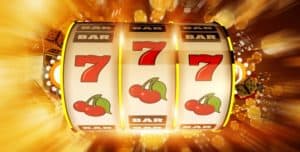 Slots games are based on a wide selection of themes, ranging from mythical characters and historical events to films, popular TV shows and sports. 
Developers of online slots know that tapping into players' love of specific topics will bring those players repeatedly back to that game.  Adventure and phantasy-themed slots are usually a safe bet when it comes to gambler preferences.
What Draws Players to Themed Slots?
Every slots game is based on a specific theme.  Even the one-armed bandit machines of yesteryear were dominated by themed play.  These came in the form of fruits, often depicting cherries, lemons and watermelons.  Additionally, there were other popular symbols like the bell and the seven.    
While some of these classic slot symbols have endured to the present day, other popular themes have emerged.  A theme that players find familiar will make them feel more comfortable and at ease. It's no wonder, then, that every prominent developer has at least one slot machine game under each theme.
The Most Popular Slots Themes
While the classic fruit-themed slots can still be found, there are fresh themes that cover all aspects of modern life.  Here is a list of some of the best-loved slots machine themes:
Asia/China – Slots based on cherry blossoms, lanterns, dragons and other imagery from ancient Chinese folklore have always been trendy. Additionally, the Chinese make up one of the largest gambling markets in the world, and their beliefs concerning superstition and luck play a big part where they choose to wager their money.
Ancient Egypt – You can safely say that pretty much every casino software developer has got at least one Egypt-themed game within their portfolio. Typical imagery associated with these games includes Tutankhamun, ankhs and scarabs.
Ireland – The luck of the Irish has become synonymous with many slots machine themes and provides an irresistible allure to those seeking their pot of gold at the end of the rainbow. Expectedly, gold pots feature prominently, as do leprechauns and four-leaved clovers.  Typically, Irish-themed slots come with a range of bonus features, as well as a trail bonus option.
Money/Wealth – While it's one thing to dream about a big win, it's another to continuously see the riches appear in front of your eyes on the slots. From the time of the earliest progressive online jackpot, Cash Splash, slots based on money and getting rich have always been popular. NetEnt's famous progressive slot, Mega Fortune, at one stage, held the record for the biggest jackpot payout of all time.
Fairy tales – Tapping into childhood nostalgia is always well-received amongst the players. Magic themes also give designers the freedom to be creative, allowing fairylike animations, cute graphics and great bonus rounds.
Popular Branded Slots Themes
With so many premium games to choose from, it's often challenging to stay ahead of the pack.  One of the ways to garner player inclination is to stick to big-name titles that everyone is familiar with.  These include blockbuster movies, bestselling books and trending pop artists.
Here are some of the popular slots themes that made it to the top of the preference list at online casinos:
Jurassic Park – This Microgaming classic was released in 2014, based on a movie of the same name that premiered two decades earlier. Nevertheless, the enduring popularity of this Steven Spielberg classic has made this slot popular to this day.
Alien – Alien is another superb slot that was released in 2014 and is based on an even older 1986 space thriller directed by James Cameron. Its nail-biting gameplay includes a bonus round that is more like a video game than a slot.  
Guns N' Roses – another NetEnt chartbuster, this slots game pays tribute to one of the most groundbreaking rock bands of all time.
What Are the Best Slots Themes Around?
The choice of the best slots theme falls exclusively on you and your personal preferences.  If you are a fan of Irish whiskey, you'll likely opt for a leprechaun-based theme, or your penchant for Chinese food might draw you towards an Asian-themed game.  Either way, it's all about fun and choosing a slots theme that makes you feel comfortable is key to an enjoyable gambling experience.