How Does Cruise Ship Gambling Really Work?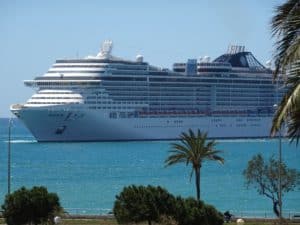 Picture a luxury transoceanic liner, kitted with all the trappings of lavishness: posh restaurants, cosy suites, impressive entertainment areas and decks galore to soak in the sun and fresh ocean air for hours. Naturally, top cruise ships often come equipped with state-of-the-art casinos, although few passengers are fully aware of how cruise ship gambling actually works.
Everyone who has had the privilege of sailing aboard a cruise ship knows that there is little that you are left wanting while onboard. Your every need is taken care of, and there are ample activities and entertainment to pursue. For gamblers, there are often fully equipped casinos to enjoy, with all their favourite games.
But what are the laws governing cruise ship gambling and do these overlap with the regulations of casinos on dry land?
Laws Governing Gambling at Sea
According to maritime law, when at sea, the gambling laws are determined by the nation under which flag the vessel is sailing. However, once a ship enters the territorial waters of a particular country, the gambling regulations become subject to the laws of that land.
According to US law, international waters become territorial waters of a country once the ship is closer than 12 miles from the nearest coast. If a ship enters the territorial waters or docks in a country where gambling is prohibited, the onboard casinos will be closed down for the duration of the stay.
Taxation of Gambling Wins on Cruise Ships
Paying taxes on your casino win, when at sea, depends on the amount that you win and whether this sum is worth reporting to the state under whose jurisdiction the win was scored. Should someone win a couple of thousands of dollars or enjoy a sizeable table game win with 300/1 odds, the house is technically obliged to provide tax forms to the lucky winner. The winner would then be required to pay the taxes on their haul.
However, this procedure only needs to be done if the onboard casino operators are based in a country that taxes gambling wins. Some states, like the UK, do not tax cruise ship casino wins, so you will be able to keep all your winnings if you are in its territorial waters.
How Are Cruise Ship Casinos Regulated?
The largest cruise industry trade association, Cruise Lines International Association (CLIA), administers rules and policies that govern onboard casino machines and equipment, internal audits and control procedures for cash counting, as well as playing rules and customer service. CLIA generally follows regulatory rules and standards of play used by control boards, established international casinos and licensed jurisdictions.
However, the critical question that many cruise ship gamblers have is who they should contact, should there be a dispute onboard a ship. As expected, it's unlikely that you will find an agent or a representative on high seas, so your first port of call would be to raise your concern with the onboard casino manager.
Should the casino personnel not be able to resolve your query, you will then likely be directed to a hotel manager or a cruise director. In those rare instances when a dispute cannot be resolved on board, the casino patron is directed to the casino operator's head office on land.
Legal Gambling Age on Cruise Ships
Again, the rules governing this aspect of gambling work according to international vessel basis and the territorial waters the ship is floating on at the time. If you are complying with Canadian law or are on a cruise ship that stops in a Canadian port, you must be at least 18 years to gamble, unless the ship docks in Quebec or Manitoba, where the legal gambling age is 19.
When in international waters, if the country under whose flag you are sailing has a liberal approach to gambling, the usual age cut-off often drops to 18. However, even then, you could still be at the discretion of the cruise ship, with some liners requiring passengers below the age of 22 to be accompanied by someone over 21, should they wish to gamble or drink onboard.
Now that you have familiarised yourself with cruise ship gambling and the laws at sea, you can begin planning your next trip. Bon voyage!