A Brief Overview of Horse Racing in Vancouver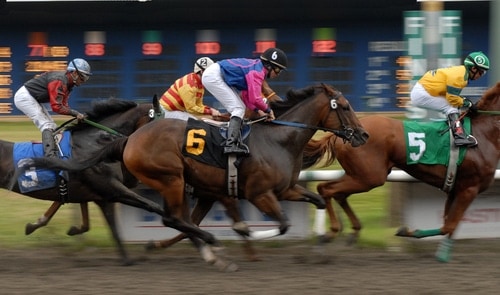 Live horse racing in Vancouver is a popular sport and a much-loved spectator pastime with a rich history and tradition dating back to the 19th century.
Vancouver's first recorded horse race in history took place in 1886, and since then, the sport has grown in popularity and has become an integral part of the city's cultural landscape. Today, two popular racecourses serve the city, while various horseracing events and festivals dot the city's annual sports event calendar. 
Hastings Racecourse & Casino
One of the longest continuously used professional sports facilities for horse racing in Vancouver is the Hastings Racecourse, which is located in the heart of the city. Opened in 1892, Hastings park has been a staple of the horseracing scene in Vancouver, and the broader British Columbia region, for over a century and continues to host many of the city's most exciting horse races.
The track is a one-mile oval and is home to both thoroughbred and standardbred horse racing. Hastings is known for its beautiful gardens, picnic areas, and a wide range of dining options, making it a popular destination for families and horseracing fans.
In recent years, Hastings has undergone significant renovations and upgrades, including adding a new grandstand, which provides a state-of-the-art viewing experience for horseracing fans. The grandstand features a large indoor viewing area and outdoor seating with a clear view of the track. Hastings has also added a new turf track, which has increased the track's ability to host a broader range of horse races.
Fraser Downs Racetrack & Casino
Another popular exhibition park race track in Vancouver is the Fraser Downs Racetrack & Casino, located in Surrey. Fraser Downs is primarily a harness racing track, although it does host a limited number of thoroughbred races each year. The track is a half-mile oval and is home to some of the most exciting harness races in the region.
In addition to offering live horse racing in Vancouver, both Hastings and Fraser Downs also offer simulcast racing, allowing fans to watch and bet on horse races from other tracks worldwide. This is an excellent option for punters who cannot attend live races or who want to follow their favourite horses and jockeys even when racing at other tracks.
Popular Vancouver Horseracing Events and Festivals
In addition to live racing, Vancouver is also home to several horse racing-related events and festivals throughout the year. One of the most popular events is the Pacific National Exhibition, an annual fair that features live horse racing and a wide range of other attractions and activities. The Pacific National Exhibition is one of the largest fairs in Western Canada and attracts thousands of visitors each year.
Another popular event relating to horse racing in Vancouver is the BC Cup, a series of races held at various tracks throughout the province. The BC Cup is one of the most prestigious horseracing events in Western Canada and attracts some of the best horses and jockeys from around the region. The BC Cup is an excellent opportunity for fans to see the best horses and jockeys in action and is an event that is not to be missed.
Horse Racing in Vancouver and Sports Betting
Horse racing is also a popular betting sport in Vancouver, with many fans enjoying the thrill of picking the winning horse and cashing in on their bets. Both Hastings and Fraser Downs offer a wide range of betting options, including win, place, show, and exotic bets. Additionally, both tracks offer on-site betting facilities and information on how to bet online or over the phone.
Ultimately, horse racing in Vancouver is a beloved and vibrant part of the local cultural landscape. From the historic Hastings Racecourse to the exciting harness racing at Fraser Downs, this beautiful city has something for every horse racing fan. Whether you are a seasoned bettor or simply a fan of the sport, horse racing in Vancouver is an experience that should not be missed.