Popular Online Slot Games with Horror-Themed Storylines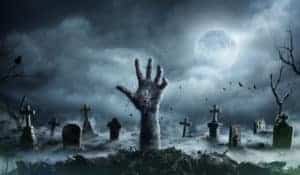 When it comes to slot games, there is an endless selection of genres to choose from, with horror-themed slot games ranking at the top of the list when it comes to the most popular game subjects.
Gamblers love to take risks, and there's no better way to try out your luck than by enjoying your favourite slot game session. When it comes to slot machine themes, an average player is spoilt for choice. From sports to music and fantasy, there is a theme to suit everyone's taste. Among the wide range of genres that you can choose, one of the most popular ones is suspense and horror.
Let's take a look at some of the reasons why horror-themed slot games have risen rapidly in popularity.
Why are Horror Slot Games Popular?
Here are some of the key reasons why gamblers are drawn to horror-themed slot games:
Research indicates that most of us have a penchant for thrills. The adverse situations seen in horrors replicate our unfavourable circumstances, and instead of cheering the protagonist, we end up resolving their problems ourselves. Ultimately, this helps us adapt to real-life scenarios.
The theory of "the beast within" links to human nature's primordial characteristics, where deep-rooted ferocity exists under the layers of our civilised facades. According to this theory, our enjoyment of horror stems from our animalistic and primitive inclinations towards violence.
Horror scenes activate our fight-or-flight mode, and this helps us train our response to stressful situations.
The horror genre helps us brush up on our coping mechanisms.
Horrors give us an adrenalin rush, which is similar to the feeling we experience when we encounter exciting things for the first time.
New and Popular Horror-Themed Slot Games
Here are some popular new releases in the horror slot game genre:
1. Transylvania Slot
This game is based on Bram Stoker's classic novel, Dracula. The game takes us to the historical region of Romania that is synonymous with vampire fiction. The game is accompanied by soul-chilling visual and sound effects, providing an evocative experience that you'll wish to repeat.
2. Frankenstein
From vampires to the undead, Frankenstein is based on the gothic 19th-century horror novel by Mary Shelley. In the story, Dr Frankenstein brings to life a responsive being, known as Frankenstein. In the game, you slip into the doctor's shoes and get to experience his lab full of potions and formulas. This game's prominent feature is the linked wilds, which feature in both the game and the free samples.
3. Ghost Ship
The theme of phantom ships is a popular topic in horror literature. The first reference to ghost ships goes back to the legend of the Flying Dutchman, which was cursed to sail the waters around the Cape of Good Hope for eternity. A sighting of this ship is said to represent an omen of doom. Although the retro aura makes this seem intentional, the game itself does not have the most polished graphics.
4. Psycho
Psycho is based on the 1959 psychological thriller written by Robert Bloch and brought to life on our screens by the legendary Alfred Hitchcock. The "psycho" antagonist comes in the form of Norman Bates, undoubtedly one of the most unnerving characters in literature. The game comes with an unsettling psycho backdrop, featuring Bates's murder knife and Hitchcock's haunting slashing-string score.
5. Halloween Jack
Halloween Jack features a girl who opens up a cursed casket that compels her to do unthinkable acts. In an attempt to rid herself of the casket, she accidentally unleashes an even greater abomination. The top feature of this game is the Jack'O'Lector Bonus. These are lantern emblems that feature in the reels, which can lead to wild bonuses. Another superb feature is the Walking Wilds, which are pumpkin symbols that can be traded for payment symbols. Halloween Jack also features respins, free spins, and other bonuses.
Choosing a slot game that features a theme that's close to your heart is always important. By enjoying the theme, you are more likely to win. And that's what playing slot games is all about.