Growing Popularity of Live Online Casino Games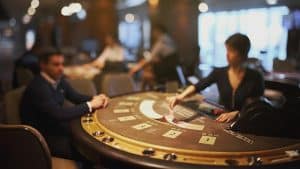 Live online casino games add a whole new dimension to online gambling by introducing a live dealer option to table games that are played via the web.
Online casinos have been around for a while.  Ever since their launch in the mid-1990s, they have progressively evolved with new features that have made online gambling closely resemble all that land-based casinos have to offer.  
This technological progression has been underpinned by new and flexible software systems that underpin these online casinos.  Previous limitations that plagued land-based casinos have been minimised, paving the way for the online gambling revolution.
What Are Live Online Casino Games?    
Live online casino games are usually standard table games, such as roulette or blackjack, that are managed by a live host and can be played via a casino website.  Essentially, the players will see a software frontend scheme through which they can place their bets and decide the size of their wagers. The live-streamed dealer will then manipulate the gameplay, by drawing cards, spinning balls, etc.
Live online betting brings together traditional land-based casino gameplay and flexibility and convenience of digital platforms.  This synergy has allowed online gamblers to experience the benefits of both worlds and has contributed to the growing popularity of online casinos.   
What Casino Games can be Played Live?
When it comes to the selection of live online casino games, the playing repertoire doesn't lag behind that of a standard in-house casino.  Although all-time favourites such as blackjack and roulette dominate the segment, games like poker and baccarat are also gaining momentum. 
Even some less traditional gambling like wheels of fortune and gameshows are available at certain online casinos.  However, since live online games require more complex technological requirements, they are not available at every online casino yet.        
What is the Drawcard of Live Online Casino Games?
For most gamblers, the allure of live online wagering is linked to the accessibility of these games.  As with any game played via an online casino, the obligation to be physically present in a casino to gamble is no longer required.  You can now engage in a game of roulette while lying in your bed and wearing your pyjamas.  The hassle of having to look presentable, physically transport yourself to a gambling house and interact with numerous other players there is no longer a must.
On the flip side, live online gambling does offer you the ability to challenge other real players who are simultaneously playing against the house.  This represents an improvement from online slots where it's just you against the machine.  Also, the text chat box allows players to interact more directly with one another and with the dealer. 
Finally, there's the mobility of online gambling.  While it's great to be able to play live online casino games form home, you can also take these along with you wherever you go.  Devices such as smartphones and laptops are now compatible will almost any online casino platform, meaning that players can access their favourite casino games from pretty much anywhere. 
The Next Big Step  
Judging by the current rate of innovation, it's not difficult to see that the online casino industry is evolving in leaps and bounds.  With a growing number of players preferring to gamble online, the growth of the market segment is assured.
Further factors to consider when it comes to future developments is the rise of virtual and augmented reality gambling.  Thanks to this technology, gamblers no longer just observe a realistic online casino game but can become part of it, through a three-dimensional view of each game.  While it's impossible to predict where online gambling technology will take us in a few years' time, what's certain is that the road ahead looks exciting and filled with possibilities.