7 Popular Slots Game Questions Answered
Published: 12 June 2020
Written by: BryanL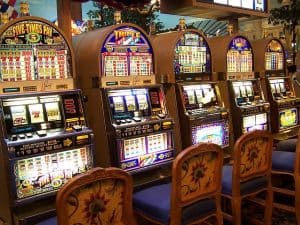 Have you ever wondered whether online slots are better than those at in-house casinos?  Or if maximum betting is the way to go?  Read further to get a few popular slots games questions answered.
For a slots game newbie, the nature of the game usually appears pretty straightforward.  But, as with any other casino game, specific questions might raise their heads further down the line.  We have compiled some of the most frequently asked questions about slots games and have laid out objective answers to the dilemmas that you might have come across while playing.
1. Are Slots Games Beatable in the Long Run?
The reason why casinos exist in the first place is because they are profitable entities.  And, to remain profitable, they need to make more money from players than players earn from casinos.  The simplest way to beat a slot machine is to hit a big jackpot and call it a day.  The likelihood of you scoring an even bigger win by reinvesting your bonus money into a few more rounds is pretty slim.  Therefore, in the long run, we can confidently say that a player can't beat the slots.  Always remember, winners know when to stop.       
2. What's the Difference Between Progressive and Simple Jackpots?
To put it simply, all progressives are jackpots, but not all simple jackpots tend to be progressives.  You might feel a bit confused now, but the differentiation lies with the sum offered by the machine as a jackpot.  A simple jackpot is a fixed sum of money that a slots game guarantees to pay if you get the right combination. 
On the other hand, a progressive jackpot represents a variable sum of money that increases with each new spin, by deducting a percentage of the wagered amount towards the jackpot.  When a player hits a progressive jackpot, the jackpot will reset itself to a lower amount and start topping up again.     
3. Are Online Slots Better than Inhouse Slots?
Both online and inhouse slots games operate under the same premise, and to say that one is more profitable for gameplay than the other would be a delusion.  However, there might be a subjective differentiation as a result of personal preferences.  Someone who likes the hustle and bustle of a casino scene would always opt for inhouse slots while someone on the quieter side, who doesn't have time to get ready and drive around, is more likely to pick online slots games.  
4. Are Maximum Bets the Way to Go on Slots?
This is one of those questions with "either-or" answers.  It ultimately boils down to what your game goal is.  If you are after a sizeable jackpot, then betting max would probably be the right approach, as most machines require higher bets to unlock the top prize.  On the other hand, a player wishing to keep his losses to a minimum, and just play for the sake of enjoyment, should consider betting lower amounts.   
5. Can Casinos Modify the House Edge on a Slots Game?
Although you might feel that a slots game might be rigged after a continual losing streak, the truth is that you're just having one of those days.  All respectable online casinos are registered with professional regulatory bodies, such as eCogra, and are subject to routine audits to eliminate the chances of foul play. 
There's a requirement for each game to make use of random number generators (RNGs) that make each spin random.  In the end, casinos are configured to make enough money from standard gameplay that they don't need to rig the machines further.     
6. Can You Play Slots for a Cent?
You might have come across casinos that offer slots games which accept a single cent bet in exchange for a chance to win big money.  While it might sound enticing, this is pure marketing and as far from the truth as possible.  We've yet to come across an online slots game that accepts a cent for a spin.  The term "penny slots" basically means that the minimum bet per line is one cent.  However, should you bet that low, you will never stand a chance to unlock some of the more lucrative bonuses that the game might be offering.   
7. How Good Are Online Slots Bonuses?
Generally, bonuses are useful as they increase your bankroll and allow you to play for longer.  However, beware of those bonuses that limit the amount of money that you can withdraw.  This is particularly true when you end up hitting a sizeable jackpot and then have to face withdrawal limits.  To be on the safe side, always go through each online casino's terms and conditions and familiarise yourself with how the bonuses work before you start playing.    
Now that you have the answers to seven strategic slots games questions, you should be ready to spin and win.  Good luck and enjoy!