5 Worst-Rated Casinos in Las Vegas According to TripAdvisor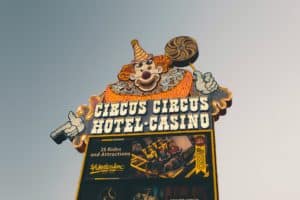 Sin City is synonymous with quality gambling, enthralling entertainment and a good time.  However, some casinos are better than others, and you should always be wary of the worst-rated casinos in Las Vegas. 
Las Vegas brims with excitement and is the ultimate destination for any hotblooded gambler.  Whether you head down for a vacation, or just to have a good time, Sin City guarantees you hour upon hour of quality entertainment. 
However, in recent times, Las Vegas has become a frustrating place for many tourists.  Often, a new arrival to the city automatically assumes that every local casino provides top-notch service.  Regretfully, this is not always the case, and Sin City has some of the worst casinos that tourists and gambler alike have ever experienced.
Here is the list of the five of the worst Las Vegas casinos, according to TripAdvisor:
1. Tropicana Las Vegas
TripAdvisor rating: 4/5
Random TripAdvisor review: Avoid like a virus!
Poor service in a tired and old building – need I say more? Save your money – wasteful! Reeks of cigarette smoke and stale booze throughout the casino. I literally have nothing good to say about this experience.
While Tropicana is renowned for its complimentary drinks that keep coming, these are usually accompanied by substandard service.  Common complaints include a lack of Wi-Fi access, snail-pace customer service, wrong room keys and long breakfast queues.  And, it seems that the management is not hands-on with tackling these issues.
2. Circus Circus Hotel & Casino
TripAdvisor rating: 3,5/5
Random TripAdvisor review: Pretty crummy
I stopped in the casino with friends, and immediately we were hit with a wall of smoke. The whole look and design of the place was just weird. It was a pretty crummy looking place. I don't know why a circus-themed hotel and casino would draw people in the first place.
We all love the excitement of a circus, with wild animals, live performers and acrobats.  Living up to its theme, Circus Circus does offer a lot to see and do.  However, the casino is marred by negative reviews that put many visitors off from ever stepping their foot in there. 
The hotel rooms come at a hefty price, although what you pay and what you get does not always correlate.  There have also been complaints about slow customer service and a delayed booking system.
3. Excalibur Hotel & Casino
TripAdvisor rating: 3.5/5
Latest TripAdvisor review: Dump
Don't stay here. The rooms are old and smell bad. No fridge in the room unless you pay. Elevators take a long time. No good restaurants in the place. I hate that you have to pay for parking. The lot was pretty empty. It is just annoying.
With a lofty name like Excalibur, visitors would expect nothing less than a regal service.  Sadly, this casino is more renowned for being dirty, noisy and unethical, with several visitors reporting stolen goods and money.  
Truth be told, Excalibur is a stunning amalgamation of visually impressive interior designs that leave you gaping in awe.  However, the poor service offered is the primary reason that many gamblers stay away from this venue.
4. Stratosphere Hotel, Casino & Tower
TripAdvisor rating: 3.5/5
Random TripAdvisor review: Dingy and Depressing
This hotel needs refreshment. Just gut it and start over. Definitely has an interesting and unique look from the outside but that ends as soon as you step through the door. The casino is dark, dank and smells as if you bathed in ashtray butts. Would most definitely not return.
The Stratosphere is to Las Vegas what Empire State Building is to New York.  A grandiose external design draws in the crowds.  However, the inside of the casino paints a different picture, with many visitors complaining about the casino management.
Additionally, rooms and bathrooms were reported as being dirty.  Even Google has not been kind to the Stratosphere, and it often ranks relatively high for the "worst casino in Las Vegas" searches.
5. Siegel Slots and Suites
TripAdvisor rating: 2/5
Random TripAdvisor review: The motel from hell
Why do you people keep staying here? We had the misfortune of having to stay here for a while and witnessed things I don't want to see again… Drugs, violence, suicide, bed bugs, mistreatment by the staff. Please, STAY AWAY! It is owned and run by criminals.
From available mediocre reviews, Siegel encapsulates a budget motel.  Patrons who have visited this place have complained about the service, food, location and accommodation.  Besides being located in the dodgy part of town, guests have complained about stale food and bland service.  With so much negative feedback, we wonder if Siegel is even right for budget travellers.
And, there you have it.  The list of the bad and the worse in Las Vegas, from the horse's mouth.  Although some testimonials might be biased, they all generally follow a pattern.  So, next time you head on over to Sin City, make sure you read the reviews before you book your accommodation, and avoid any surprises.