5 Most Popular Dice Games Available at Casinos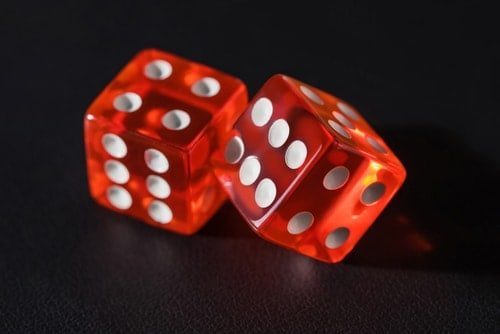 Even though there are fewer of them, dice games are a popular alternative to card games at most casinos.
Dice games are as popular at casinos as any other games. Although their variety is not as comprehensive as that of card games, there are enough to keep players entertained. Dice games where the outcome cannot be determined or influenced by skill level are called games of luck.
These games tend to be both thrilling and nail-biting, with the ongoing effort to land a six, or any desired number combination, constantly adding to the excitement. Dice have been around for many centuries and are one of the oldest pieces of gambling equipment that has stuck around to this day.
Most Popular Dice Games
Although the selection of dice games is often limited in most casinos, the available ones provide good entertainment and competitive gambling.
Here are the five most popular dice games available at casinos:
1. Craps
Craps is arguably the most well-liked dice game at casinos today. This challenging, yet profitable game uses a pair of dice and a casino table for gameplay. Most casinos offer at least one version of this game, which can be played at both land-based and online casinos.
More excitingly, playing craps is an easy way to earn big money. This means that when you wager real cash, you stand a chance to win money back. Some online casinos offer free craps, but complimentary games are hardly an option at in-house casinos.
Sic Bo
Sic Bo isn't as famous as craps, but if you ever search for a different challenge, it is a good alternative. The game is one of the oldest gambling games that originated in China and uses three dice instead of two. This game is played on a game table, and the player's primary goal is to correctly predict the total the dice will produce.
Chuck a Luck
Chuck a Luck is a dice casino game played mainly in Australia, which is occasionally enjoyed by players from other parts of the world as well. Chuck a Luck has curious origins. It's believed that Union soldiers first played the game during the American Civil War. Gambling was technically illegal, so the soldiers would use a piece of material with six numbers (one through to six) displayed on it to avoid any suspicion.
When a general or a senior officer passed by, one of the players would take the cloth, crumple it up and pretend to use it as a sweat rag so that the players wouldn't get caught. As a result, the game was called "sweat" or "sweat rag" at one time.
Banca Francesca
Banka Francesca is the highest-paced of all dice games. While it might not be familiar in North America, Banka Francesca is one of the most prevalent games at Portuguese casinos.
The game is played with three dice, and here are three possible bets:
"Big" – the total of all three dice equals 14, 15, or 16
"Small" – the sum of the dice equals five, six, or seven
"Aces" – the sum of the die is three (three aces)
The dealer would continually roll the dice until one of these results came up. Bets of "small" or "big" pay 1:1, and "aces" pay 60:1.
Klondike
Klondike is one of the gambling dice games that used to be popular in frontier America. The game is played with five six-sided dice. The objective of Klondike is to roll a better hand than the banker to win. Competition begins with the banker rolling first to set the benchmark. The players would then take turns rolling to try and beat the banker. One is the highest-ranking number, with the remaining numbers ranking from six to two.