Woodbine Entertainment to Build on Mohawk Million Legacy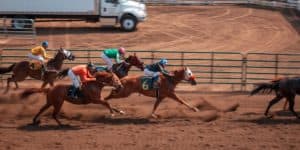 Mohawk Million is readying itself for season two next year, with two-year-old trotters encouraged to participate for the generous prize.
Woodbine Entertainment has recently reiterated that standardbred horseracing has a bright future ahead. This came to light after Jim Lawson, Woodbine Entertainment CEO, announced a sequel to Mohawk Million planned for next year. September saw the maiden edition of Mohawk Million live races that carried a sizeable purse of CA$1,32 million for the participating equines.
Mohawk Million 2021
The inaugural race was won by Venerate, who hails from the Pinkse and Andy Miller stables. Judy Miller was responsible for the training and preparation of the trotter for this top event.
According to Jim Lawson, the September edition of the race has proven to be an overwhelming success. However, the 2021 event is bound to see some structural changes, in an attempt to improve it further. Lawson added that the decision to extend the event into the new season was easy, based on all the positive feedback and outstanding results of the opening spectacle.
Current projections indicate that the continuation of the event will generate a positive impact on standardbred racing on a provincial level. According to sources, the upcoming events will continue to feature the famous buy-in formula, widely used in the horseracing field.
What is Coming Our Way?
Some of the improvements that are expected to make next year's action even better include the nine slots available for purchase, as well as a tenth one that will be determined based on performance at the William Wellwood Memorial racing event.
Additionally, slots ready for purchase will see a price drop, from the current CA$110,000 to a more affordable CA$100,000. For all those wishing to participate, 15 February 2021 is the cut-off date for slot contract submissions and should be accompanied by a CA$50,000 payment.
The rest of the money will need to be submitted by 1 June 2021. The final date of this premium racing event is expected to be announced by the end of 2020, giving the participating horse people sufficient time to prepare.