Top Tips to Boost Your Winning Chances with Scratch Cards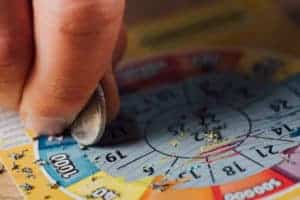 Scratch cards are a fun and relatively cheap way to try out your luck and stand a chance to win great prizes, although you can boost your chances of winning by following a few easy tips.
Scratch cards are a fun way to score some quick cash.  You don't have to drop too much moolah to purchase them and, just like the lottery, scratch cards are based on pure luck.  Even so, there are ways that you can enhance your winning chances when you're busy scratching away.  Although these tips might not bring you a prize each time that you play, they will improve your odds.
1. Read the Small Print
Whether it's for a bank loan or an air ticket, you are always advised to read the small print whenever it features on any document.  This rule also applies to scratch cards.  The devil is often in the detail, and the small print can disclose useful information such as your odds of winning on that specific card, so it always makes sense to read it.
2. Don't Buy the Cheapest Card
The sheer selection of scratch cards available can be overwhelming for a novice player.  With so many prices, prizes, designs and brands to choose from, making the right decision can be quite hard.  Of course, it's always tempting to buy the cheapest ticket or a few of these. 
However, when it comes to scratch cards, quality over quantity should always take precedence.  You would be better off buying fewer expensive cards than several cheap ones.
3. Play Scratch Cards Like Slots
Try to get some inside info before you commit yourself to a purchase.  It wouldn't hurt to start a conversation with the vendor or the storekeeper, to find out if they had any winning tickets that were bought recently.  Be subtle at all times, as this could be your key to winning.
4. Keep Your Old Tickets
Nostalgia aside, there is a logical reason for keeping your old tickets.  You might think that a scratch card is a loser, but don't just chuck it away!  You never know, you might realise that you made a mistake at a later date.  In some rare cases when a jackpot is not won, the manufacturer calls upon the losing tickets to select a new winner.
5. Buy in Bulk
Many players swear by the buy-in-bulk tactic, believing that if you purchase a couple of cards at once, your odds of landing a win increase.  So, if you are buying cards in one purchase, your chance of hitting a winning card is higher than if you purchased the same number of cards spread across several buys.  Of course, only make use of this strategy if your budget allows this.
6. Be Strict With your Budget
You probably won't win more with this tactic, but it will prevent you from losing too much cash.  Set a weekly or a monthly budget and stick to it, to avoid your finances from spiralling out of control.
7. Stick to the Same Game
This is pretty logical – if you stick to one game and keep playing it, your every losing ticket will be one losing ticket less out of the equation.  On the other hand, if you spread your spend over several different games, you could end up hitting the losing card continuously.  So, pick a game that you like and stick to it.
8. Submit Your Losing Tickets
The bottom line is that the only way to be 100% sure that you have not won anything is to have your ticket officially checked.  Whether there's an error on the card or a missing winning combination, you could end up being eligible for some sort of payment.  The chance that you might have missed something along the way always exists, so make sure that you have a record of all your ticket purchases, should a need arise.     
While these methods will not make you an instantaneous scratch card winner, they will enhance your chances of winning over an extended period of time. Ultimately, the outcome will depend on luck, although no harm is done by trying to improve your odds along the way. Try out our tips and see for yourself.