Online Bets Now Open for Kanye Presidential Run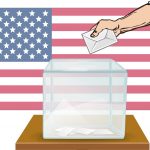 Just when we've thought that the American political scene cannot get any odder, a new bombshell fell right out of the blue, in the form of Kanye West's bid for the Oval Office. So, what are West's chances and how does he stack up against the competition?
There were more than just the Fourth of July fireworks going off last week, with Kanye West setting off additional sparklers with his unanticipated announcement to run for the White House. The 43-year-old half of the Kardashian-West combo fame crossed the Rubicon and immediately garnered some substantial endorsements behind his bid, including the likes of Elon Musk.
What are the Odds?
Although it's not for us to deliberate the merits of our southern neighbour's choice of presidential candidates, Kanye's decision has opened up a few fresh opportunities in the world of Canadian online betting.
At the moment, Joe Biden continues to extend his betting lead over the incumbent Donald Trump. Shares on the political PredictIt betting exchange are all forecasting record-high chances for the former vice president to win the Oval Office. According to the latest estimates, Biden's PredictIt shares are currently trading at 61 cents a piece, with Trump straddling behind at 42 cents.
While legal United States sportsbooks are not permitted to offer odds on political bets, this is not the case in Canada. Following West's tweet, the consensus of him stepping into the presidential shoes shifted from 500/1 to 50/1, increasing his odds from 0,2 per cent to 1,96 per cent. In money terms, a CA$10 winning wager on 500/1 would originally net CA$5,000. Now, that wager would only generate CA$500.
According to Oddschecker, following West's tweet, 61 per cent of all newly placed wagers have been on the rapper.
Can Kanye Pull it Off?
While we're witness to some impressive betting odds, the chances of Kanye West beating either of the two frontrunners are pretty slim. One of the rapper's most significant drawbacks remains the fact that he is entering the race far too late.
States like New Mexico, New York, North Carolina, Texas, Maine and Indiana have finalised their independent candidate ballots, which together delegate 102 electoral votes. Furthermore, cut-off dates are fast approaching in Oklahoma, Florida, South Carolina and Michigan, which hold 61 electoral votes.
Ultimately, Kanye West's chances of winning the United States presidential race are relatively slim. Going against the American political establishment is in theory possible but in practice rather farfetched. Nonetheless, the more candidates there are, the more interesting the election day and the betting day will look on 3 November 2020.