Index of Terms Used in Sports Betting and Sports Wagering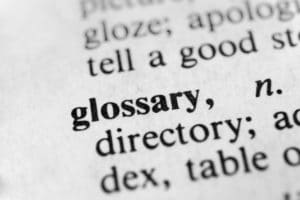 Like any other specialised topic, sports betting, too, uses a great deal of slang and jargon terms that a novice bettor might not be familiar with.  
Casino games are known for their unique vocabulary – a set of terms that come as second nature to seasoned gamblers.  Sports wagering is no different, and there exist a plethora of sports betting terms that have, over time, become part of the standard betting lingo.
While you might not necessarily ever come across all of these terms, it's good to be aware of them, in case you ever encounter something that you might not be familiar with.  Here's our sports betting terms glossary to help you out: 
A
| | |
| --- | --- |
| Accumulator: | A bet which includes multiple selections, which must all be correct for the bet to win. |
| Action: | A slang term for betting in general. |
| Against The Spread: | Placing a bet where a point spread will decide the outcome. |
| Arbitrage: | When odds available on a single betting market make it possible to make more than one bet. |
| Asian Handicap: | A specific type of handicap betting that originated in Asia and is popular for soccer betting. |
B
| | |
| --- | --- |
| Bad Beat: | Losing a bet in unlikely, and particularly unlucky, circumstances. |
| Banker: | A wager that's considered almost sure to win. |
| Bankroll: | A sum of money allocated for betting purposes. |
| Betting Exchange: | A betting platform that eliminates the need for a bookmaker. |
| Bettor: | A person making a bet (s). |
| Bookie: | A commonly used abbreviation for a bookmaker. |
| Bookmaker: | An individual or an organisation which takes bets in a professional capacity. |
| BR: | A commonly used abbreviation of bankroll. |
| Buck: | A slang term for a $100 bet. |
| Buying Points: | The act of paying to receive half a point or more in your favour for a point spread wager. |
C
| | |
| --- | --- |
| Canadian Line: | A betting line used in ice hockey, which combines point spread and money line betting. |
| Chalk: | A slang term for the favourite. |
| Chalk Player: | Someone who generally backs favourites. |
| Circled Game: | A game where a bookmaker limits the betting action. |
| Combination Bet: | A term for any wager containing more than one selection. |
| Cover The Spread: | Winning a wager placed against the point spread. |
D
| | |
| --- | --- |
| Decimal Odds: | One of the three main formats for expressing odds, commonly used by sports betting sites. |
| Degenerate: | Someone who gambles frequently, and often recklessly. |
| Dime: | A slang term for a US$1,000 bet. |
| Dime Line: | A betting line with 10% vigorish. |
| Dog: | An abbreviation for an underdog. |
| Dog Player: | A bettor that tends to bet on underdogs. |
| Double: | A wager consisting of two different selections. |
| Drifting: | A term used to describe odds that are getting higher. |
E
| | |
| --- | --- |
| Each Way: | A two-part wager. |
| Edge: | A term used to describe an advantage of some kind. |
| Even Money: | Odds where you stand to win an amount equal to your stake. |
| Exotic Wager: | A term used to describe a non-standard bet. |
| Expected Value: | A theoretical measure of how much a wager is likely to win in the long term. |
F
| | |
| --- | --- |
| Favourite: | The selection in a betting market which is most likely to win. |
| Field: | A term to collectively describe all possible selections in a betting market. |
| Fin: | A slang term for a $50 bet. |
| Fixed Odds: | Odds agreed when a wager is placed. They don't change even if the odds move in the future. |
| Form: | Recent results of a team or an individual. |
| Fractional Odds: | One of the three main formats used for expressing odds, commonly used in the UK. |
| Futures Bets: | Wagers which are placed on an outcome happening sometime in the future. |
G
| | |
| --- | --- |
| Get Down: | A slang term for placing a wager. |
| Grand Salami: | A wager in ice hockey, on the total number of goals in all matches on a specified day. |
H
| | |
| --- | --- |
| Handicap Betting: | Bookmaker hypothetically adding goals to the underdog to decide an outcome. |
| Handicapper: | A bettor who focuses on statistics and other factors to try and make accurate predictions. |
| Hedging: | The placing of wagers against previous wagers, to help reduce risk or guarantee profits. |
| Hook: | A half-point element used in point spreads and totals betting. |
I
| | |
| --- | --- |
| If Bet: | A wager consisting of at least two separate bets joined together by an "if" clause. |
| Implied Probability: | Theoretical likelihood of a particular outcome, based on a bookmaker's odds on that outcome. |
J
| | |
| --- | --- |
| Juice: | The margin/profit that bookmakers build into the odds they offer. |
L
| | |
| --- | --- |
| Lay: | The act of accepting a wager – e.g. a bookmaker lays bets to bettors. |
| Laying The Points: | The act of placing a point spread wager on the favourite. |
| Laying The Price: | The act of placing a moneyline wager on the favourite. |
| Lengthening Odds: | Odds that are getting higher. |
| Line: | The odds offered by a bookmaker or the point spread offered. |
| Linesmaker: | The person(s) setting the odds/lines at a bookmaker. |
| Lock: | A wager considered almost certain to win. |
| Long Odds: | An alternative term for high odds. |
| Longshot: | A selection in a betting market that's considered to have a minimal chance of winning. |
| Lump On: | A slang term for placing a bet. |
M
| | |
| --- | --- |
| Moneyline Bet: | A simple type of wager on a selection to win the relevant match/event. |
| Moneyline Odds: | One of the three main formats for expressing odds, commonly used in America. |
| Moving The Line: | The act of paying to receive half a point (or more) in your favour for a point spread wager. |
| Multiple: | A term used to describe any wager which contains more than one selection. |
N
| | |
| --- | --- |
| Nickel: | A slang term for a US$500 bet. |
O
| | |
| --- | --- |
| Odds: | Determine the potential payout of a wager. |
| Odds Against: | Odds that are higher than even money, meaning you can win more than your wager. |
| Odd Compilers: | A person setting the odds/lines at a bookmaker, and adjusting them to create a balanced book. |
| Odds On: | Odds that are lower than even money. |
| Off the Board: | When the betting market is off the board, the bookmaker is taking no more bets. |
| Opening Line: | The first line available for a sports event. |
| Outsider: | A betting selection that has only a small chance of winning. |
| Overround: | The profit that bookmakers build into their books. |
| Over/Under Bet: | A wager on the total number of something (such as points or goals scored in a match). |
P
| | |
| --- | --- |
| Parlay: | A wager containing multiple selections, all of which must win for the bet to pay out. |
| Payout: | The sum of money received from a bookmaker following a winning wager. |
| Permutation Betting: | A form of wagering which covers multiple selections in different combinations. |
| Pleaser: | A point spread wager containing multiple selections. |
| Point Spread: | Bookmaker allocating points to the underdog, to create a theoretically level playing field. |
| Press: | To wager a larger than a standard stake. |
| Price: | An alternative term for odds. |
| Pricing the Market: | The act of setting the odds or lines for a betting market. |
| Prop Bet: | An abbreviation of proposition bet. |
| Proposition Bet: | A wager on a specific outcome in a sports event, such as the first player to score. |
| Punter: | A slang term for a bettor, a person. |
| Puppy: | A slang term for the underdog. |
| Push: | A tied wager, where the stake is returned to the bettor. |
R
| | |
| --- | --- |
| Return: | The sum of money received from a winning wager. |
| Run: | A betting line explicitly used in baseball. |
S
| | |
| --- | --- |
| Sharp: | A slang term for an experienced, professional, or skilled bettor. |
| Short Odds: | An alternative term for low odds. |
| Shortening Odds: | Odds that are getting lower. |
| Single: | A wager with one selection. |
| Smart Money: | Wagers that are either very experienced or have information not readily available. |
| Special: | A wager on a specific outcome in a sports event, such as the first player to score. |
| Sportsbook: | An alternative term for a bookmaker. |
| Spread: | An abbreviation of points spread. |
| Spread Betting: | A type of betting where the margin determines the amount the bettor wins or loses. |
| Square: | A slang term for a novice bettor, or one that generally loses money. |
| Stake: | The sum of money wagered. |
| Steam: | Substantial move in a betting odds, usually caused by the amount of money being wagered. |
| Sucker Bet: | A slang term for a "bad" bet, one that significantly favours the bookmaker. |
T
| | |
| --- | --- |
| Teaser: | A point spread wager containing multiple selections where the bettor can adjust the spread. |
| Totals Bet: | A wager on the total number of something (such as points or goals scored in a match). |
| Traders: | The person(s) setting the odds/lines at a bookmaker, and adjusting them to create a balanced book. |
| Treble: | A wager consisting of three different selections. |
U
| | |
| --- | --- |
| Underdog: | The selection in a betting market which is least likely to win. |
V
| | |
| --- | --- |
| Value Bet: | A wager where the theoretical likelihood of winning is greater than the odds suggest. |
| Vig: | A commonly used abbreviation of vigorish. |
| Vigorish: | The margin/profit that bookmakers build into the odds they offer. |