Golden Week in Macao Ends Up in Disappointment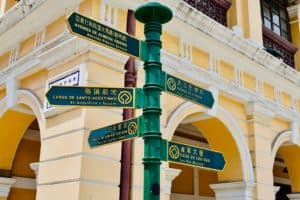 The much-anticipated Golden Week, which was predicted to draw in tens of thousands of Chinese holidaymakers to the territory of Macao, has turned out to be a flop.
There were grand expectations that this year's Golden Week will provide a much-needed lifeline to Macao, in light of the tumbling number of visits the territory has recorded so far this year, as a result of the ongoing pandemic. Sadly, the overall visitations tumbled by a record 90% compared to the same period last year.
Overall, the territory remained largely tourist-free, compared to what had been anticipated. Due to the lack of arrivals, the Macao gambling industry has had its gross gaming revenue (GGR) remain at a near standstill.
Drastic Year-on-Year Drop in Visitor Numbers
The latest numbers point to just under 140 thousand arrivals, of which 130 thousand were from mainland China, representing a staggering drop of 83,6%. Due to the more than disappointing figures, the casinos in Macao have been unable to rebound from the persisting decline in revenue caused by the coronavirus pandemic.
According to Sanford Bernstein brokerage, Macao's gambling industry managed to scoop up US$246 million of gross gaming revenue, which represents a fall of 76% compared to last year's Golden Week turnover.
The Road to Recovery Remains Rocky
Analysts predict that October will see a GGR drop of about 70%, mainly due to uncertain liquidity constraints, as well as visa processing concerns. Nonetheless, recovery is anticipated over the next couple of months, under the condition that the visa application process gets simplified and compulsory COVID-19 testing for all visitors gets done away with.
However, with very little gaming activity now a certainty for the remainder of 2020, Macao's road to recovery will be long. According to preliminary JP Morgan estimates, the territory will only reach full recovery in 2022 and will have to be as industrious as possible to weather the storm in the interim.