Fallsview Casino and Casino Niagara Invest CA$1 Million in Safety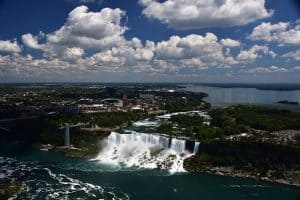 Niagara Falls is one of the best-loved tourist destinations in the country, although this natural wonder and surrounding casinos have been closed to the public for months.
Niagara Falls mayor, Jim Diodati, has stated that the relaunching of the two casinos in the area, the Fallsview and the Niagara, is key to jumpstarting the badly affected local economy and tourism industry in this part of the country. The reopening is being coordinated with the Ontario Chief Medical Officer, Dr David Williams.
Fallsview Casino Resort and Casino Niagara have been shut since mid-March, amidst the growing uncertainty and fear surrounding the coronavirus pandemic. Niagara Casinos, the holding company that owns the two affected gambling resorts, at the time issued a shutdown order to protect both the casino employees and numerous patrons.
Reopening Plans in the Pipeline
Five months after the initial order to shut down, many venues continue to remain either closed or operating at minimal capacity, due to the lingering set of restrictions that are still in place. According to the latest reactivation plan, casinos are now allowed to welcome 50 patrons at a time, to accommodate safe distancing and prevent clustering of people.
Nonetheless, many casinos have elected to remain shut since the idea of running a profitable operation with only 50 patrons at any given time seems unrealistic. This has inadvertently impacted the coffers of local authorities and also has had a negative bearing on the employment figures, which is something that mayor Diodati wishes to reverse.
Close Coordination with Provincial Authorities
According to Diodati, the two casinos under his jurisdiction are busy working on their reopening plans, and the mayor is optimistic that the Chief Medical Office will soon greenlight their plan of action. The two establishments have pumped a staggering CA$1 million into improvements and reinforcement of their existing safety policies.
The two casinos are working closely with an epidemiologist, to ensure that all safety procedures are as comprehensive as possible. As it stands, the regional public health office has agreed to allow a phased reopening. It has furthermore indicated that the 50-person limit might be waivered in this instance due to the size and importance of the two establishments.
The final go-ahead is expected to be made in the coming days, and the casinos should be fully functional soon.