Can Modern Medicine Encourage Compulsive Gambling?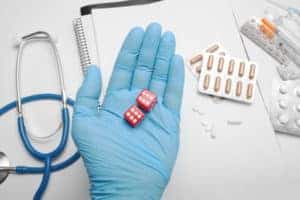 A patient who two years ago was prescribed a dose of antipsychotic drugs has launched a lawsuit. The plaintiff claims that the medicine has contributed to her developing various obsessive behaviours, including compulsive gambling.
Back in November 2019, Jenifer Purchas was given a prescription of the antipsychotic drug Abilify by Dr Stephen Ayotunde Ogunermi. According to Purchas, soon after completing her course of pills, she started exhibiting a series of compulsive behaviours that included eating, shopping, gambling and sexual addiction.
As a result of her newly acquired habits, Purchas states that she got into a huge credit card debt, an increase in her mortgage, and has permanently damaged friends and family relationships along the way.
Abilify is a well-known antipsychotic medication prescribed to patients with early stages of bipolar disorder, schizophrenia, and manic depression. Purchas claims that her compulsive behaviours began after she finished her Abilify course, and by 2020 she landed herself in an unadmirable amount of debt.
Case of Medical Negligence
Purchas, a resident of British Columbia, stated that she had no idea that the medicine she was taking would have such a detrimental effect on her wellbeing and was not warned in advance.
In her lawsuit, Purchas stated that she "has been a victim of medical negligence and breach of contract, resulting in a series of mental disorders and weight gain due to compulsive eating, which posed as a threat to her health. She insists on compensation for special and aggravated injuries and financial loss due to the fact that she is now in huge debt to banks, friends and family".
To date, no response has been filed to the lawsuit by Dr Ogunremi's employer, Tri-Cities Mental Health Centre, and the second defendant, Shoppers Drug Mart. In 2016, the US FDA warned that this medicine could cause long-term compulsive disturbances. This caveat was further backed by an Ontario judge, during a national class-action in Canada in March 2020.
Responsible British Columbia Lottery Corporation (BCLC)
BCLC has been proactive over the years in trying to assist those players with compulsive gambling issues and is continually rolling out new solutions to help with this problem. Recently, BCLC was awarded a Level 4 certification by the World Lottery Association, honouring its efforts in the war on compulsive gambling.