7 Largest Sports Betting Parlay Wins of All Time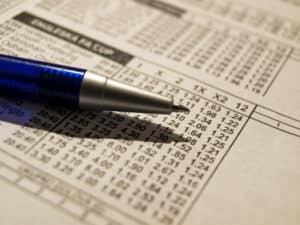 Parlays, or accumulators, are big business for sportsbooks, with an occasional bettor defying the odds and landing themselves with substantial cash prizes.
Accumulator, or parlay bets, consist of wagers that are made up of several selections across different sporting events.  For your bet to win and the parlay to land, all legs must be the winners. 
The advantage of parlay betting is that you can score a big prize off small stakes, which makes this type of betting that much more appealing.  Here is the list of the largest parlay wins ever and the lucky winners who scored them:
1. Won US$250,000 (US$8,500 on 29/1 Odds)
Las Vegas is the gambling centre of America and has seen some huge wins over the years.  One unnamed MGM bettor staked a massive US$8,500 parlay bet on five NFL teams, during the 2017 season.
He first selected his four favourites – New England Patriots, Kansas City Chiefs, Oakland Raiders and Baltimore Ravens – and then predicted Detroit Lions beating New York Giants in the end.  When all five parlay legs came up, the man increased his US$8,500 to a massive US$250,000, which he can thank his confidence and his football skill predictions.
2. Won US$305,000 (US$5 on 61,000/1 Odds)
One anonymous resident of Las Vegas bet on 15 basketball selections in March of 2016, resulting in one of the biggest wins ever in the history of basketball betting.  What made this win even more impressive was that, apart from two selections, none of the others were NBA picks.     
In fact, most of the US$5 progressive parlay wager consisted of NCCA college basketball teams.  In the end, all 15 legs came in, resulting in a more than impressive US$305,375 win being scooped up.  
3. Won £500,000 (30p on 1,666,667/1 Odds)
Most parlay bettors stick to one sport, but an unnamed punter from Lichfield in the West Midlands decided to include a bouquet of sporting selections in 2000.  In the end, he betted 16 events on the same 30p slip. 
Ultimately, the lucky bettor predicted the winners of English football's top five leagues, the bottom three leagues in Scotland, the rugby union premiership winner, as well as the victor of the cricket Country Championship.
4. Won £574,287 (£1 on 573,286/1 Odds)
A housewife from the UK, fed up with her son and husband's obsession with soccer, decided to bet £1 on 12 teams winning in the English Football League 2017 season.  And, her predictions came full circle when all 12 results came off, winning her a massive £574,287. 
5. Won £823,000 (£19 on 181,015/1 Odds)
The Punchestown Festival is the closing act of the Irish horse jumping season, with some of Ireland's top racehorses on show.  One brave bettor put parlays on the Friday of the 2017 meeting, which was the Punchestown Festival hurdle day.
The finish line saw Canardier (33/1), Bacardys (10/1), Definite Rugby (7/1), Woodland Opera (9/2) and Das Mooser (10/1) coming in, forcing the Coral bookmakers to fork out the largest sum ever on horseracing in their history.  The £4 fivefold and the five £3 fourfolds increased the £19 to just under £823,000.  Talk about a bookie pummelling! 
6. Won £1 million (50p on 2 million/1 Odds)
In 2008, a fertilizer salesman, Fred Craggs, scored an incredible eightfold at the horseraces.  The Yorkshire local placed a 50p parlay bet at his local William Hill betting outlet, in the town of Thirsk.
The bet was struck at a colossal odds of 2 million/1.  In the end, all eight of Craggs's preferred runners came in.  However, the lucky punter didn't know that his parlay had come off until he revisited the betting shop branch.   Ultimately, the £1 million prize came in as a perfect 60th birthday gift and one that Craggs will remember forever.
7. Won £1,4 million (£2 on 725,335/1 Odds)
The biggest parlay bet winner reported to date has been Steve Whiteley, an engineer from North Tawton in Devon.  Whiteley's £2 winning combination contained six selections: Lupita (12/1), Lundy Sky (5/1), Mr Bennett (16/1), Ammunition (16/1), Black Phantom (12/1) and Semi Colon (2/1).  The resultant prize amounted to an incredible £1,450,671.71, the largest in the history of Tote Jackpot.
While parlay bets might not be as targeted as single-bet wagers, they offer a great winning potential.  The ability to spreads your bet over several races allows for some pretty sizeable prizes resulting from small stakes. Why not give parlay betting a shot and see where your luck takes you.