5 Online Gambling Myths Debunked
Published: 3 June 2020
Written by: BryanL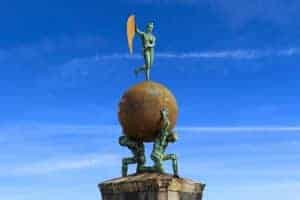 There are plenty of myths and misunderstandings surrounding online casinos and gambling sites that are, more often than not, false.
Although the casino industry is frequently seen as being shrouded in secrecy, the fact of the matter is that all regulated inhouse and online casinos operate under sound business premises. Even so, many gambling myths and misconceptions have evolved over the years, creating confusion about how people look at casinos in general.
To separate the facts from the fiction, we have analysed some of the most widespread hearsays relating to the online casino industry and have dispelled these rumours by setting the record straight.
5 Popular Online Gambling Myths
While each industry has got its set of stories, the following five falsehoods create much perplexity in the way the outside world looks at online gambling.
1. Online Gambling is Rigged
There's nothing further from the truth when someone says that computers are easy to rig, so all online casino games are fixed. A registered and licensed online casino is guaranteed to offer fair gameplay. Games are governed by a random number generator (RNG) that ensures that all outcomes and results are arbitrary. In addition, any reputable online casino would be fully audited by auditing firms such as eCOGRA.
Like any casino, online casinos are set up in such a way that guarantees more overall wins than loses against players. This means that they don't need to rig anything to better their chances. A successful casino is a profitable casino and fiddling with the fairness of the gameplay could result in that casino's reputation being dragged to ruin.
2. Online Gambling is Illegal
Indeed, there are certain countries and jurisdictions around the world that have outrightly banned any form of gambling on their territory. But applying this as a blanket statement is simply too broad to be true. In Canada, all offshore-based online casinos that meet the necessary registration criteria are legal.
If you come across a casino website but are still not 100% sure if it's a legitimate operation, check the casino's license and accreditation. Having the stamp of approval from reputable gambling bodies such as the Malta Gaming Authority or the Kahnawake Gaming Commission is a clear sign that the online casino is safe. You should find this on the footer of their website.
3. Gambling Sites are Unsafe
It's easy to assume that online casino websites are at higher risk from hackers and fraudsters due to the high volume of transactions effected daily. While first online casinos had to consider various security features to protect their businesses, contemporary casinos are all heavily buffered against unwelcome intrusions.
Let's face it. Online casino operators know that their websites appear like ripe, juicy apples ready to be picked by criminals. As a result, all online casinos employ the most vigorous security systems that are currently available on the internet. This means that any transaction conducted between you and an online casino is fully encrypted and is as safe as making payments via your online banking site.
4. Slots Machines go from Hot to Cold Modes
As we mentioned earlier, all computerised online casino games are governed by the random number generator algorithms. Obviously, you can't expect to have an eternal winning streak. A smaller gain or a loss usually follows a period of strong wins. But no matter what the outcome is, the result after each round is entirely disassociated from the previous one and devoid of any patterns.
As a result, it's illogical to state that a slot machine is overdue for a win. The only time that any pattern can be observed is by looking at historical data of a slots machine. Even so, attempting to figure out what the next spin holds is equal to fortune-telling.
5. Gambling Depends on Luck Alone
Ok, here we have to concede a goal. Certain games are, indeed, entirely based on luck. A good example can be found with the slots mentioned above that exclusively rely on the RNG. Similarly, lady luck determines the outcomes of roulette and craps too.
However, there are those games where your own experience and skillset can work in tandem with luck to better your chances of winning. A clear example is poker, where the gambler crème de la crème often spends decades to perfect their gaming strategies. Alternatively, blackjack is another game that depends on robust techniques and tactics that can help swing the house edge.
It's normal to feel suspicious about any non-client facing service such as an online casino, that relies on continuous money transactions. But, as seen above, many of these concerns are pure myths and legacies from a previous period. A fully licensed and registered online casino is as safe as any other reputable online service provider, and you should never be in doubt about playing there safely and securely.