Top 5 Non-Gambling Attractions for Children in Las Vegas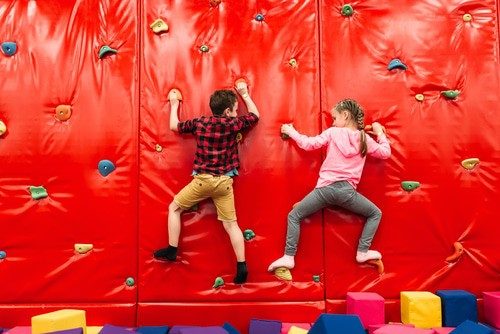 Visiting Las Vegas with children can be challenging, although there are plenty of non-gambling attractions to keep the little ones busy for hours.
Las Vegas is renowned for its famous casinos, gourmet restaurants, and performances by top artists. However, there is plenty to see and do for those family-oriented people. If your kids are tagging along with you to Sin City next time you visit, there are numerous non-gambling attractions in Las Vegas for them to pursue.
Here are the top five non-gambling attractions for children in Las Vegas:
1. Pole Position Raceway
Pole Position Raceway is an indoor racing venue that is truly exciting. If you're based on The Strip, you can use the shuttle service to and from the raceway to your hotel. The karts are the fastest in the US, and you might even see some celebrities, such as George Lucas and Travis Pastrana, at the facilities.
Racers of all skill levels can take part, but your kids must be minimum of four feet tall to ride in the karts. Reservations aren't necessary, although you could arrange to host a private event there during your stay.
2. High Roller
The High Roller is the largest Ferris wheel in the world. It has 28 pods that hold 40 passengers each at a time. The High Roller is in the centre of The Strip, so you and your little ones can see all the breathtaking attractions the area has to offer from high up.
If you and your kids wish to ride on the High Roller, it's best to purchase tickets ahead of time to avoid the queues. There's also a photographer, so you can take photos before hopping onto the wheel. The High Roller is ideal for kids afraid of heights since it rotates slowly, so it's more difficult to notice how far above the ground you are.
3. The Eiffel Tower
This realistic replica of the Eiffel Tower is a great place to host a birthday party or to spend the day admiring the city's skyline. The viewing deck is one of the best spots to enjoy all the fascinating aspects of Las Vegas.
You'd be about 50 feet above the ground and near exhibits and restaurants.   This means you could enjoy other activities or a meal after visiting the tower. Alternatively, you could enjoy dinner at the Eiffel Tower Restaurant on the 11th floor, available by prior reservation only.
4. Discovery Children's Museum
The Discovery Children's Museum is one of the more popular non-gambling attractions for children in Las Vegas since the exhibits are both entertaining and educational. There are exhibits that let children understand what it takes to become a DJ or a video-game developer. There's also a health-education exhibit to show kids the effects of the foods and drinks they put into their bodies.
Young at Art is another popular attraction that offers children a chance to create their own artworks based on the popular Dr Seuss stories. It's a good idea to call ahead of time and reserve tickets at least a day before you want to visit to get information on the deals available for those travelling in groups.
5. Kids Quest
This activity is located at the Boulder Station Casino. There are activities for children from six weeks to 12 years old, so the chances are good you can find something fun for your little ones to do. If you wish to see more adult attractions Las Vegas offers but wish to ensure your kids are safe, Kids Quest is the best solution if you're staying at the Boulder Station Hotel. There's a train table, video games and even a karaoke area for kids to sing their favourite songs.
There's also a pool and a movie theatre that allows your little ones to enjoy the latest movies in the safety of the hotel. The equipment in the Kids Quest facility is safe, and the surfaces are child-friendly. When you make your hotel reservation, enquire about Kids Quest so you can plan for your children to stay there while you pop in at the casino or one of Vegas restaurants.