Top 4 Benefits of Gambling via Mobile Poker Apps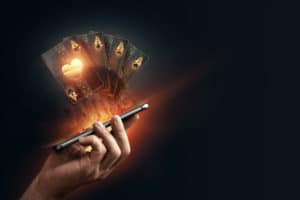 As players continue to migrate from in-house poker and poker websites to mobile poker apps, the need for a unique smartphone offering has become more apparent.  
Contemporary gamblers are tech-savvy and constantly on the move.  They expect to be able to access their favourite games at the touch of a button and from whichever location they might be at.  Expectedly, the majority of them have switched from classic online poker websites to mobile poker apps.
The trend of users spending more time on their smartphones than ever before is the biggest reasons for this migration. In order to keep players coming back, mobile poker apps have had to invent something unique to differentiate them from the competition.  Mobile apps have the advantage of the accompanying smartphone infrastructure and its built-in features. Examples of this would be a phone camera and GPS tracking.
Let's look at the four key benefits of mobile poker apps that have made these so popular among online poker players.
Playing poker on your smartphone is convenient
Playing mobile poker apps whenever you happen to have some spare time is easy.  All you have to do is unlock your smartphone and select the app that you wish to access. You don't have to physically travel to a casino or even switch on your computer. You can play while watching your favourite show on TV, standing in a line at the grocer or waiting to be picked up.
Improved security and access to bonuses
Operating systems on smartphones are often a whole lot more secure than your average PC. The chance of a smartphone getting hacked is extremely low. All reputable poker operators have security teams and algorithms to protect the business and the players, preventing collusion and any other form of cheating.
Poker players appreciate bonuses awarded to them by mobile poker sites. Loyal gamblers are rewarded with various benefits such as VIP statuses, cash rewards, and tournament tickets. Checking what each poker app has on offer in terms of rewards is a great idea. You can then select the one that appeals the most to you.
Mobile poker offers social gameplay features
There are thousands of cash game and tournament players trying their luck out with mobile poker at any time of the day. When you play on the latest mobile poker apps, you can interact live with your opponents and directly compete with them on the leaderboard. Online poker brings people together from all parts of the world.
You can play just for fun
While standard poker is cognitively stimulating, you can relax and have fun wherever you are with mobile poker. Choose between real-money games or free games if you don't want to risk spending your hard-earned cash.
Action-packed poker games can be pretty exciting as the top prize often exceeds 1000x your buy-in. Playing on mobile apps is also far more engaging than simply scrolling your feed on various social media platforms. However, make sure that you don't get addicted to it, and always play within your budget!
Conclusion
Playing poker on mobile apps is a superb way to spend your leisure time. Not only do you stand a chance to win real money, but you can also play from wherever, using many social game formats. If you practice enough, you are bound to improve your logical thinking, concentration, and odds. These skills also come in handy for real-life situations, so take advantage of the mobile poker apps today and break a leg!