Is Las Vegas Suitable for Families?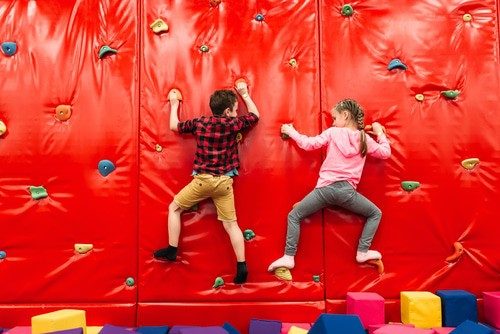 You might have asked yourself, "is Las Vegas suitable for families?" before an upcoming trip to Sin City with your kids. We think it is.
Las Vegas is renowned for its famous casinos, gourmet restaurants, and performances by top artists. However, there is plenty of things to do for family-oriented travellers. If your kids tag along with you to Sin City next time you visit, there are various non-gambling Vegas activities for them to pursue.
So, is Las Vegas suitable for families? We would say 100%! Here are the top five non-gambling attractions to enjoy during your next holiday in Las Vegas with kids:
1. Pole Position Raceway
Pole Position Raceway is an indoor go-kart racing venue that is truly exciting to take the kids to. If you're based on The Strip, you can use the shuttle service to and from the raceway to your hotel.
The electric, high-performance karts are the fastest in the US and can reach speeds of up to 45 miles per hour. These karts are environmentally friendly, producing no emissions or fumes, making them an ideal indoor racing option. Racers of all skill levels can participate, but your kids must be at least four feet tall to ride. Reservations aren't necessary, although you could arrange to host a private event during your stay.
In addition to the racing experience, Pole Position Raceway offers a variety of amenities, such as a lounge area, a video arcade, and private party rooms. The facility can accommodate birthday parties, corporate team-building events, and bachelor parties, making it ideal for all age groups.
Pole Position Raceway has received positive reviews from both locals and tourists alike.  Celebrities like George Lucas and Travis Pastrana have praised the facility's well-maintained tracks and high-quality karts. Overall, Pole Position Raceway is an excellent destination for anyone looking for a fun and unique experience in Las Vegas.
2. High Roller
The High Roller observation wheel is a 550-foot-tall Ferris wheel located in Las Vegas, and is one of the most popular kid magnets. It is the largest Ferris wheel in the world and has 28 pods that hold 40 passengers each at a time. The entire ride takes approximately 40 minutes to complete. The High Roller is in the centre of the Vegas Strip, so you and your little ones can see all the breathtaking attractions the area offers from high up.
The wheel was opened to the public on 31 March 2014 as part of a larger development project called The LINQ, which includes a shopping and dining district. The High Roller serves as a centrepiece for the development, attracting visitors from around the world.
In addition to the stunning views, the High Roller also offers a variety of unique experiences, such as a "Happy Half Hour" cabin for the adults that includes an open bar and bartender and a "Chocolate Tasting Experience" cabin for the kids, which offers a selection of chocolates.
If you and your kids wish to ride on the High Roller, it's best to purchase tickets ahead of time to avoid the queues. There's a photographer, so you can take photos before hopping onto the wheel. The High Roller is ideal for kids afraid of heights since it rotates slowly, so it's more difficult to notice how far above the ground you are.
3. The Eiffel Tower
This realistic replica of the Eiffel Tower is a great place to host a birthday party or admire the city's skyline. The viewing deck is a top-notch vantage spot from where you can admire the entire Las Vegas skyline.
This landmark towers 50 feet above the ground and is conveniently located near popular local restaurants and art exhibits. This means you could enjoy other activities or a meal after visiting the tower. Alternatively, you could enjoy dinner at the Eiffel Tower Restaurant on the 11th floor, where reservations are essential.
4. Discovery Children's Museum
The Discovery Children's Museum is one of the more popular non-gambling attractions for children in Las Vegas since the exhibits are both entertaining and educational. There are exhibits that let children understand what it takes to become a DJ or a video game developer. There's also a health education exhibit to show kids the effects of the foods and drinks they put into their bodies.
Young at Art is another popular attraction that offers children a chance to create their own artworks based on popular Dr Seuss stories. It's a good idea to reserve tickets at least a day before your visit to get information on group booking deals.
5. Kids Quest
This venue is located at Boulder Station Casino and offers activities for children from six weeks to 12 years old. If you want to visit adult attractions but wish to ensure your kids are safe, Kids Quest is your choice. There's a train table, video games and even a karaoke area for kids to sing their favourite songs.
There's also a pool and a movie theatre that allows your little ones to enjoy the latest movies in the safety of the hotel. The equipment in the Kids Quest facility is safe, and the surfaces are child-friendly. When booking your hotel at Boulder Station Casino, make sure to enquire about Kids Quest. The venue will put a smile on your kid's dial while you pop in at your favourite casino or one of the top Vegas restaurants.
So, the next time you ask yourself, "is Las Vegas suitable for families?" rest assured that the answer will be a resounding yes! With so many activities to keep the little ones busy, you don't need to worry. Just make sure you book your tickets beforehand to ensure that kids get to try them all out.