Beginners Guide to Horseracing and Horserace Betting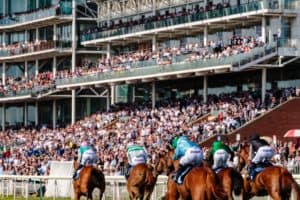 Horseracing has been around for thousands of years, with the likes of Rome's Circus Maximus and Istanbul's Hippodrome attesting to the penchant for betting on horses going back to the time of the Roman Empire. 
Horseracing is amongst the oldest competitive sports in existence.  Records of horseracing go back to the second millennium before Christ.  The races provided both entertainment and a chance to make a quick buck to the swarms of spectators who flocked to watch the most skilled jockeys and charioteers compete against one another. 
Horseracing has evolved over the years, although its fundamental principles have remained the same.  One of these is the enduring link between racing and betting. Today, bettors all over the world wager on race outcomes regularly, either by directly attending events or through off-course bookmakers. 
In fact, betting is one of the primary funding mechanisms of the modern horseracing industry, with sponsorships and prize money relying primarily on this income.  Subsequently, most racetracks would not be able to stay afloat financially without the contributions generated by bookmakers. 
Horseracing at a Glance
Horseracing is jam-packed with thrills and excitement, with even the smallest bets causing your adrenalin to skyrocket during the race.  Even so, many people tend to shy away from trying out their luck due to the misconception that horserace betting is an overly complicated process.
Naturally, like with any game of luck, there are some complex aspects.  However, the fundamentals remain straightforward.  All you need to do is select a horse that you think will win and place your money on it.  You might not always win but giving it a shot is worth a try.  
Types of racing – While there are many types of horseracing, the one preferred by punters is thoroughbred racing since it provides the broadest selection of betting opportunities. The other two kinds of racing are harness racing and steeplechases.  
Types of bets – While there are many betting types, most punters make use of the straight win bet. Additionally, there are the place and show straight bets, as well as five different types of exotic bets. 
While horseracing is fun, it is also one of the few forms of betting that offers the possibility of generating long term profits.  Although the bookmakers will always carry an advantage over you since they set the odds, their advantage is not unbeatable.  And, judging by the number of regular bettors that consistently win money at the races, the possibility of anyone striking it rich is realistic.
However, consistent wins are not easy.  It takes a lot of practice and experience to master all aspects of the game that are needed to bet successfully.  Ultimately, if you are serious about betting professionally and winning, it can certainly be achieved.
Legalities of Horserace Betting Globally
Horserace betting is legal in most parts of the world, although we advise that you doublecheck your local laws before you engage in any gambling activities.  Please remember that online and offline betting laws might differ and may vary from one region to the next.   Basic knowledge of the law in your area can keep you safe from any legal issues and will assist you in finding online betting sites that cater to customers in your region of the world.
Most Prestigious Horseracing Events
Horseracing has always been viewed as the pastime of the rich and famous.  Although some of these events are glitzy and star-studded, anyone is welcome to enjoy the day and mingle with the crowd.
Here's the list of some of the more prestigious horseracing events around the world:
| | | |
| --- | --- | --- |
| Preakness Stakes | 2,000 Guineas Stake | Grand National |
| Prix de l'Arc de Triomphe | Kentucky Derby | Breeder's Cup |
| St Leger Stakes | Dubai World Cup | Belmont Stakes |
| Epsom Derby | Melbourne Cup | Triple Crowns of Racing |
Major Racecourses and Racetracks Around the World
Almost every major city has got a horseracing track.  Some of these have been around for a long time and are steeped in tradition while others are more contemporary, yet offer superior experiences, nonetheless. 
Here's our top pick of premium horseracing tracks:
| | | |
| --- | --- | --- |
| Flemington | Meydan | Longchamp |
| Churchill Downs | Pimlico | Belmont Park |
| Newmarket | Aintree | Cheltenham |
We hope that our concise guide has provided you with the necessary information and the confidence to place your first horseracing bet.  Good luck and yeeha!